What's On Tonight & Pop Culture
You Got A 'Community' Notification For This?
Thursday, January 23, 2020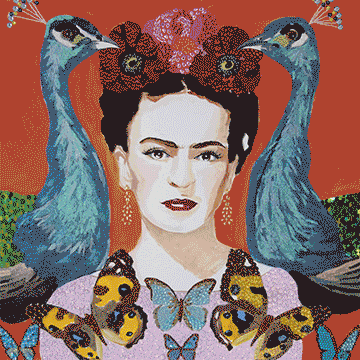 Via @ashleylongshore at Giphy
Bravo TV - 9:00 p.m.
Collaborations between fashion designers and artists are all the rage; the designers get a chance to enter into one with painter Ashley Longshore whose outrageous pop art gives the runway some of the boldest looks of the season.
This episode will be replayed on January 25th at 7:30 a.m. and January 30th at 7:30 p.m.
Posted By

Calista
on Thursday, January 23, 2020
No comments:

Wednesday, January 22, 2020
Hello....This is what's on for January 23rd 2019

Streaming:

PICARD (CBS ALL ACCESS): Capt Jean Luc Picard Lives!!!!! (well i mean he was never actually dead in the show--but still HE LIVES AND HAS NEW ADVENTURES!!!) (This would've been a big, big, big deal to 8th and 9th grade era me as I was a ginormous Next Gen fan at that age--I used to love the show sooo much you guys!)


via Gfycat
"Think about it. If you go into the past, that past becomes your future, and your former present becomes the past, which can't now be changed by your new future!"
"So, Back to the Future's a bunch of bullshit?"
Bad Boys For Life becomes the first smash hit of the new year, while Dolittle does more than expected, but will only make a little of its budget back.
Introducing today's contestants:

- Lau, a youth substance abuse prevention worker from British Columbia, is on her honeymoon;
- John, a slot floor person from California, is a fan of solar eclipses; and
- Dennis, a bartender from Maine, understands the impact of the opioid crisis. Dennis entered the game as a three-day champ with winnings of $51,203.

Via Giphy
Handicapping The New Hampshire Primary From Coös County [WGBH/You Tube]
In Case You've Forgotten All The New Evidence Since The Impeachment Hearings [The Bulwark]
Tuesday, January 21, 2020
"Lady Freedom"
by

skpy
is licensed under
CC BY-SA 2.0
Of course I came home to unfinished business that requires my attention. If this place holder makes it through that means I'm still dealing with that. That or defrosting. I came home to the cold. Assuming that McTurtle is still pretending to hold a semblance of a trial I've already posted an open thread to discuss it tomorrow morning.
I've got friends visiting Cairo.
Photo theirs
Political discussion welcome.
Awkwafina is Nora from Queens (via Giphy)
Hey! It took more than a month, but we are back to a full Wednesday as usual. Also tonight, Comedy Central rolls out its new comedy
Awkwafina Is Nora from Queens
, starring the should-be Academy Award-nominated Awkwafina, also known as Nora. This isn't an autobio TV show. Awkwafina plays a fictional version of herself, living with her family and seeking direction and purpose. It has a great supporting cast, too. Elsewhere, Netflix premieres a health docuseries,
Riverdale
is back, the BAU crew enjoys a Saturday off, Angie takes a big step on
Single Parents
, and the WNYX staff gets serious about Dave. You're a bad man. You're a very bad man, here's what's on television for tonight, 
Wednesday, January 22
!
💻 STREAMING
Airplane Mode
 🎥 (Netflix, 3 a.m.): In this (dubbed?) Brazilian import, Ana, an influencer, goes to live with her grumpy grandfather's farm for a digital detox after she crashes her car while talking on the phone.
Pandemic: How to Prevent an Outbreak
 (Netflix, 3 a.m.): SERIES PREMIERE. Thankfully this has nothing to do with the stupid board game. This docuseries looks at the history of pandemics and the chances of a future one. There will be plenty about vaccines and their benefits.
Wisting
 (Sundance Now, 3 a.m.): Just as Wisting is hailed a national hero for solving The Caveman case, he faces accusations of evidence tampering in a previous murder case, leading to Vidar Haglund's potentially wrongful conviction.
Trending On The Pop Culturists